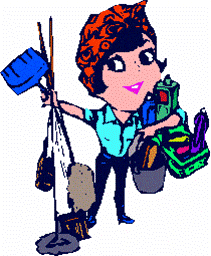 Start Fresh Cleaning Service
Punctual Staff

Friendly, Professional Service

Move In And Move Out

Quotes Done Anytime, Done By Owner

Long Standing Staff

All English Speaking Staff

Our Cleaning Methods Are Pet and Child Friendly

We Use Environmentally Friendly Cleaning Supplies

Customized Quotes

Budget Conscience

Fully Licensed, Bonded and Insured

Recurring Cleaning Offered (weekly, Monthly, Etc.)

Cleaning As Needed

Over 10 Years Of Experience

Local Family Owned & Operated
Mon - Fri: 9:00am - 5:00pm Weekends: Closed
I am temporarily unable to clean, and hiring Fresh Start was an excellent decision. Friendly, courteous and they do a wonderful job.
Start Fresh has been very professional, friendly and I could not be more pleased with their first cleaning. We are on an every other week schedule and I am amazed at how clean my house is after their first cleaning. I don't know why I did not call them sooner!"
"I was very pleased with the initial deep cleaning! The owner, as well as the ladies sent to tackle my home, were thorough & professional. It was definitely money well spent!"
""Jane - the owner - and her crew - are trustworthy, dependable, and always address your specific needs, whether it's wanting a spotless microwave cleaning, or vacuuming UNDER the couch! I highly recommend her!""
Wouldn't change it for the world. – I recently bought a living social deal for a cleaning from the ladies of start fresh. Normally I wouldn't let anyone else clean in my home because I like everything a certain way and there are a few priceless pieces in my home which I do not like touched. However I took the chance and had the ladies come out. When the ladies arrived they were amazingly professional and made me feel at ease. When they were done I could FEEL the difference in rooms that I spend everyday in and the ladies even told me about the Groupon ad they are getting ready to run as a way for me to save money on another clean. I highly suggest giving Jane a call and bringing her girls into your life... you won't regret it.
Awesome job !! – I always like to clean my own house. Have had services that just let me down, always say I do a much better job then them. However life got a little out of control and I needed help so i called Start Fresh. Well what a wonderful experience lol I wont be cleaning my own house again. A real treat on a regular basis :)
Start Fresh is great – I got a cleaning as a gift and I loved it! The owner was very professional. We discussed how much time would be spent in my house and what would be done so I knew exactly what to expect. The group of girls who came to clean were very friendly and professional.
Start Fresh is different – I have been using Start Fresh cleaning service for many years. The owner is always available when I want to make a change to the clean or if I have a concern. I love that I have the same team come into my house each time. The cleaning is very detail oriented, it is not just a surface clean.
Once you Start fresh there is no turning back – Rushelle, who cleaned my house did an amazing job and left me wholly surprised at how detailed she was. They provide the supplies, and when they say they touch everything they do indeed leave no stone unturned. I completely expected one particular area to be overlooked and when i checked to see if it did had tears of joy because i have found a credible cleaner.
So glad I called Start Fresh - great job! – I bought the Living Social coupon for a 3 hour cleaning service. I am sooooo happy I did! I'm a clean/neat freak. And I've never had anyone professionally come into my home before. So, I was hesitant. But I'm so glad I finally took the plunge, because being able to focus my time on more important things for my job and business (while the house was getting wonderfully clean!) eased my mind and made my day so much more productive and enjoyable! Jane, the owner, came out prior to the actual cleaning to do a walk through and understand what I really need and want. She was very open with listening to my needs and what type of products I wanted used in my home. Kelly, who did the actual cleaning, was amazing. Not only was she so polite and sweet, but she did a fantastic job. I am so pleased, that I now need to find a way to have Start Fresh Cleaning come 2 times a month. Jane was so helpful, and very willing to work on a price that works for both of us. I hope that my husband and I can do this, because I'm wishing I would have started hiring someone a long time ago! You can't go wrong with Start Fresh. At least talk with Jane, have her come out, and decide for yourself.